Vol. 115 No. 2 (2021)
Research Papers
Beekeeping promotes the traditional home-garden conservation in Ethiopia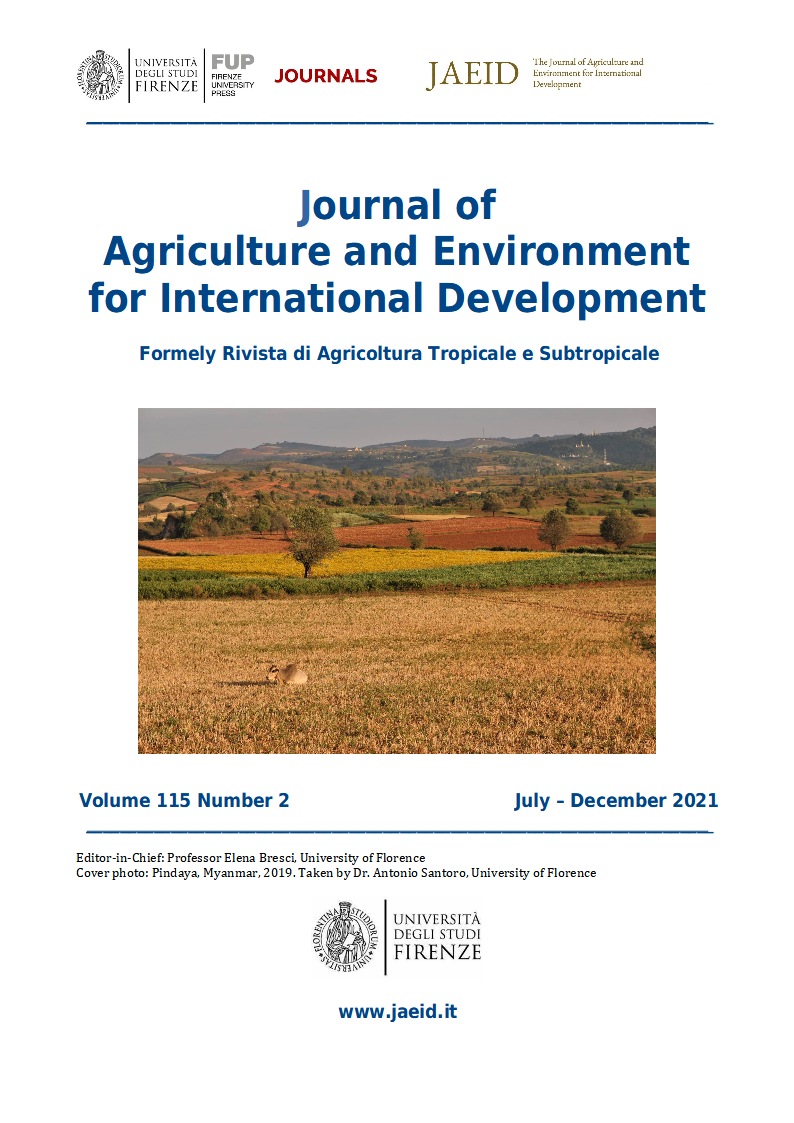 Published
January 2, 2022
Keywords
agrobiodiversity

,

indigenous knowledge

,

Home-garden conservation,
How to Cite
Kumsa, T., Bareke, T., Addi, A., & Roba, K. (2022). Beekeeping promotes the traditional home-garden conservation in Ethiopia . Journal of Agriculture and Environment for International Development (JAEID), 115(2), 23-37. https://doi.org/10.36253/jaeid-12084
Abstract
In Ethiopia, agrobiodiversity is managed through indigenous knowledge of rural communities, where the selection of plant species varies depending on the sociocultural practices and local economic needs. Traditional beekeeping has been practiced by millions of households in rural Ethiopia over a long historical period. However, the contribution of beekeeping in maintaining agrobiodiversity has not been systematically assessed in the country. This study was conducted in Central and Western Ethiopia to assess and compare traditional conservation practices, as well as the diversity and abundance of vegetation found within home-garden maintained by beekeepers and non-beekeepers. The results of the study showed that beekeepers raditionally retain more remnants of trees and shrubs in their home-garden to favor sustainable beekeeping, compared to non-beekeepers who instead are more likely to expand crop production. The mean number of floral species in beekeeper and non-beekeeper home-gardens was 22.8 ±3.2 and 14.2 ± 2.1, respectively. The higher species richness of bee visited plants in beekeepers' home-gardens may be associated with traditional ecological knowledge accumulated by beekeepers over the years to maximize harvests of bee products. We therefore recommend the integration of ekeeping to other conservation interventions, such as community forestry, watersheds and protected areas as sustainable conservation practices. We suggest that necessary financial, technological, and extensional support should be enhanced to align improved v to any conservation efforts.