Vol. 115 No. 1 (2021)
Research Papers
First investigation about the agricultural system in Torbeck plain, Haiti: a statistically driven SWOT analysis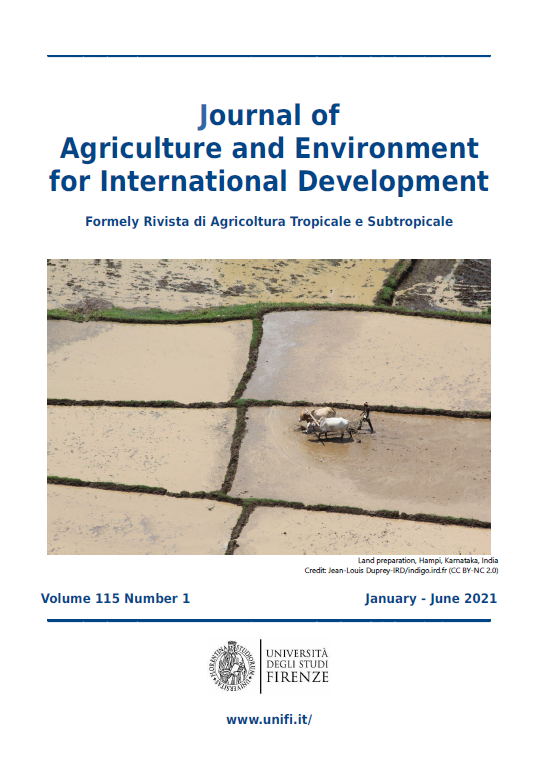 How to Cite
Russo, G., Aristil, J., Bernadin, J. W., Spada, A., Assante, G., & De Marinis, P. (2021). First investigation about the agricultural system in Torbeck plain, Haiti: a statistically driven SWOT analysis. Journal of Agriculture and Environment for International Development (JAEID), 115(1), 97-124. https://doi.org/10.12895/jaeid.20211.1465
Abstract
Haitian agricultural potential is largely unexploited, also thanks to inappropriate international and national policies. Development cooperation role in developing the agricultural sector is still fundamental in Haiti, despite the long-standing presence and amount of funds channelled by international development organizations. The country needs a new approach to its agricultural development and development cooperation needs new practices that are able to drive a shift towards more appropriate interventions.
Our research focuses the integration of advanced statistical methodologies and SWOT analysis at pilot scale. Multidimensional data were collected in 49 farms in Torbeck plain survey data in order to inform a SWOT analysis built on elementary data mining techniques and Principal Component Analysis (PCA) in order to discover the main components affecting the system's variability. The most meaningful variables are then used for Hierarchical Cluster Analysis (HCA) in order to provide farms' classification and identify the most relevant features for economic sustainability of the farms.
PCA reveals the presence of three main components. Overall, it seems that crop choice makes the difference because of the sale price's great importance. The irrigation system's availability does not affect neither yield nor income, whilst mechanization is mostly important for farms whose farmer's first crop choice is maize. Moreover, mechanization is a generally worthwhile investment for farms whose fields' area is at least about 1.2-1.5 ha.
Overall, statistical analysis provides reasonable farms' classification and interesting insights about agricultural Torbeck system. These were valuable for informing a SWOT table. Commenting SWOT results, we were able to suggest strategies for improving agricultural system in Torbeck. They include development of poor local market opportunities and infrastructure, planting of crops with high economic values, development of governmental supports, preparing strategic plans for development of organic farming, considering the quality of crops, considering farm sustainability indexes, using sustainable water resource management and development of extension programs based on farmers' needs. On the one hand, these findings match the existing guidelines. On the other hand, they help in identifying priorities for intervention in the study area.