Vol. 115 No. 1 (2021)
Research Papers
Food Production Diversity and Diet Diversification in Rural and Urban area of Iran.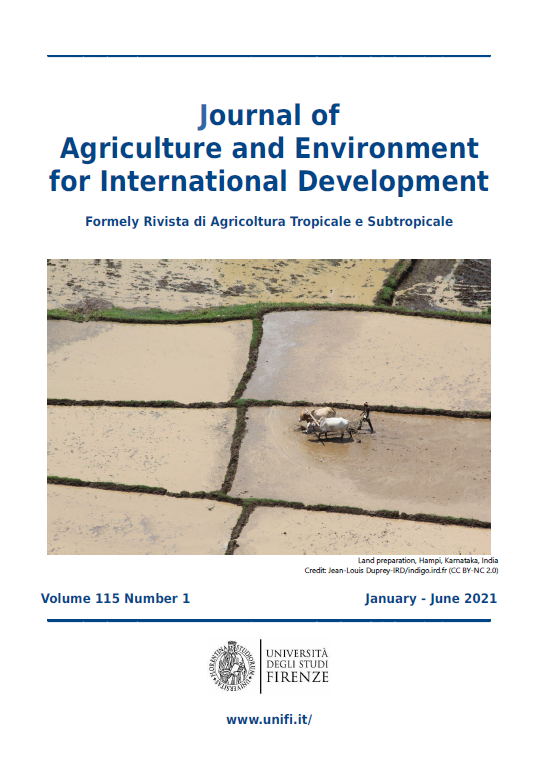 How to Cite
Farsi Aliabadi, M. M., Daneshvar Kakhky, M., Sabohi Sabouni, M., Dourandish, A., & Amadeh, H. (2021). Food Production Diversity and Diet Diversification in Rural and Urban area of Iran. Journal of Agriculture and Environment for International Development (JAEID), 115(1), 59-70. https://doi.org/10.12895/jaeid.20211.1252
Abstract
The food security paradigm shifted from diet quantity to diet quality and consumption of a satisfactory amount of micronutrients around the world. Low dietary diversification and imbalance consumption of food groups are the main characteristics of Iranian households. Food production diversity can be a significant determinant of dietary diversity in developing countries such as Iran. Thus, this research tries to examine the impact of food production diversity alongside the socioeconomic and sociodemographic determinants on dietary diversity in rural and urban areas of the country. For this aim, a panel data set is constructed based on all the available data in rural and urban areas of 31 provinces of Iran from 2011 to 2016 and panel quantile regression applied to investigate the impact of the control variables. The main results indicate that food production diversity, household income, the share of food in household expenditure, literacy rate have a positive and significant impact on the dietary diversity in rural and urban regions of the country. Moreover, the food price index has a negative and significant effect on dietary diversity in both regions. Finally, the age of head of household and family size only has a negative impact on diet diversification in rural areas. According to these results, encouraging small farmers to change their production patterns to a more diverse pattern in a short time, and pursuing multidimensional approaches such as the promotion of agricultural value chain should be considered by policymakers to improve the dietary diversity in rural and urban areas. Furthermore, the establishment of rural retirement found and redistribution of current income subsidy can help the elderly and extended family in rural areas to enhance their diet quality. Finally, design a price monitoring approach alongside a flexible trade strategy to manage the food market prices can help households to consume the appropriate diet with enough micronutrients.