Vol. 107 No. 1 (2013)
Reviews
Las Misiones de Asistencia Técnica y la emigración rural italiana en Latinoamérica (1950-1952).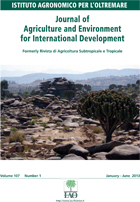 How to Cite
Benedini, G. F. (2013). Las Misiones de Asistencia Técnica y la emigración rural italiana en Latinoamérica (1950-1952). Journal of Agriculture and Environment for International Development (JAEID), 107(1), 115-141. https://doi.org/10.12895/jaeid.20131.124
Abstract
En los años de 1950 a 1952 se realizaron siete Misiones de Asistencia Técnica en Latinoamérica, expediciones oficiales del gobierno italiano realizadas en el intuito de evaluar el potencial agrícola de las áreas donde sería posible instalar colonias rurales de emigrantes. Las Misiones fueron financiadas por el European Recovery Programme, que destinó un millón y trescientos mil dólares para la asistencia a la emigración agrícola desde la Península que, por su vez, el gobierno italiano repartió entre el "Istituto di Credito per il Lavoro Italiano all'Estero" (ICLE) y el "Istituto Agronómico per l'Africa Italiana" (IAAI). El primero administró la mayor parte de los recursos, pero la dirección de las Misiones tocó al instituto agronómico de Florencia, que con los mismos objetivos ya había organizado, en 1949, sus propias expediciones en Venezuela y Brasil. Gracias a los documentos producidos por las Misiones de Asistencia Técnica, conservados en el centro de documentación inédita del "Istituto Agronomico per l'Oltremare" (como fue re-denominado el IAAI en 1959) es posible conocer no solamente los resultados científicos alcanzados por estas expediciones, como sino también trazar un mapa de la colonización italiana en América Latina, identificando los asentamientos que tuvieron éxito y los que desaparecieron sin dejar vestigios aparentes. El propósito de este artículo consiste en extraer de las fuentes oficiales – complementadas con otros documentos, consultables por Internet – las informaciones básicas que puedan orientar futuras y más profundas investigaciones sobre la "emigración dirigida" del Segundo Posguerra, que tuvo los campos latinoamericanos como destino preferencial.
Palabras llave: Historia de la Emigración Italiana, Historia de la Agricultura, Colonización agrícola en Latinoamérica.